Planned
Ch Rokko Vom Corvinus Haus - to be bred to -Darc Von Templinhaus
Sire
View Profile
DOB 7-5-2018
71 cm, 54.5 kg (120 lbs)
National Champion
International Champion
Honors Champion
Multi V rated
BOB
Long Coat Clear by Parentage
JLPP Clear/Normal by Parentage
OFA Full Dentition RO-DE1958/14M-VPI
OFA Prelim Hips Good
OFA Hips Good RO-79303G24M-VPI
OFA Elbows Normal RO-EL13238M24-VPI
OFA Cardiac Normal RO-CA8678/24M/P-VPI
OFA Eyes Normal RO-EYE2775/25M-VPI
OFA CHIC #151551
OFA Advanced Cardiac Normal RO-ACA1026/27M-VPI
Rokko is a production of Vom Corvinus Haus Rottweilers and was sired by European Import Ch Hoss Se Ungo Rot, and is out of our foundation female Vom Wollmans Alexa Corvinus Haus! Rokko is fully health tested and CHIC Certified with all passing results!! Rokko is a large male with excellent bone and a powerful structure! He has a wonderful head piece with well set and carried ears, he has dark eyes and mouth pigment with full dentition and a correct scissor bite. He has a short, correct coat with dark mahogany markings, a wide, deep and well sprung chest, and great and powerful movement! Rokko is a medium drive dog with very high ball drive, but also loves to just chill and hang out, or go for rides in the truck. He is aloof with strangers with a wait and see attitude, and is very loyal to his person, Jake. He is an IABCA NatCH, IntCh and HrnCh, is multi V Rated and Multi BOB! ROKKO IS AVAILABLE FOR STUD TO BITCHES OF MERIT! Stud fee- $2,000
Dam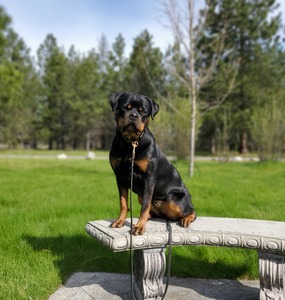 View Profile
DOB 4-25-2021
33.6 kg (74 lbs)
JLPP Clear by Parentage
OFA Eyes Normal RO-EYE3123/3F-VPI
OFA Dentition Full RO-DE2550/9F-VPI
OFA Cardiac Normal RO-BCA765/12F/P-VPI
OFA Patellas Normal RO-PA1411/12F/P-VPI
OFA Prelim Hips Excellent
OFA Prelim Elbows Normal
Darc is out of European Imports, Ch Xalmo Von Kelemen X Ch Bruka Vom Haus Nina! Darc has a wonderful pedigree and we are very excited to add this to our Vom Corvinus Haus program!! Darc is a medium drive female with a very friendly, social and outgoing disposition! She is already showing great promise in both formal Obedience and Tracking and also enjoys Barn Hunt! Darc brings very flashy, engaged Obedience and interest and dedication in tracking! We look forward to seeing how this little beauty does in the sport and conformation rings! Darc will be added to our breeding program pending the completion of all appropriate health testing.
Ch Rokko Vom Corvinus Haus X Darc Von Templinhaus!
Breeding planned for SPRING of 2023!!
Expecting puppies with excellent heads and bone, with low to medium drive!
1st Pick Female: Reserved KD