Males
Males
DOB 10-15-2017
70 cm, 56.8kg (125 lbs)
National Puppy Champion
International Puppy Champion
Honors Puppy Champion
International Champion
National Champion
Honors Champion
Honors Champion in Bronze
Honors Champion in Silver
Honors Champion in Gold
Multi Best of Breed
Multi V1 rated
UKC Champion
UKC Reserve Best in Show
BCAT
OFA Full Dentition RO-DE1549/6M-VPI
OFA Eyes Normal RO-EYE2548/24M-VPI
OFA Hips Good RO-78701G24M-VPI
OFA Elbows DJD I UL
OFA Thyroid Normal RO-TH1105/24M-VPI
OFA Advanced Cardiac Normal RO-ACA811/24M-VPI
JLPP Clear/Normal RO-LPP3497/27M-PI
OFA CHIC # 145230
DM - Clear, N/N
NAD - Clear, N/N
LEMP - Clear, N/N
XLMTM - Clear, N
UC Davis Long Coat Clear S/S
UC Davis Furnishings Clear N/N
OFA Eyes Normal RO-EYE2548/49M-VPI
Eryx is a wonderful example of the Rottweiler breed! He is fully health tested and CHIC Certified! He is an IABCA IntCh, NatCH, HrnCH, and HrnCh in Bronze, Silver and Gold!! Eryx has his BCAT, he is a UKC Champion, UKC Reserve Best in Show, has been BOB multiple times, has many group placements as well as being V1 Rated at every show! Eryx also won BOB puppy, his NatCH, IntCh and HrnCh Puppy in his first weekend of showing at 5 months old! Eyrx is a large male with great bone and substance, he has a wonderful, level topline and powerful gait with great reach and drive! He has rich, rust markings, black eyes and black mouth pigment, a correct scissor bite and full dentition. His headpiece is impressive! Large with a well defined stop without being overdone, correct muzzle to head ratio, with large ears set and carried correctly. He has a deep, well sprung chest, correct and powerful front, and strong correct rear with excellent front and rear angulation! Eryx is a high drive dog with high prey and working drives, while still maintaining a very fun loving disposition! He passes his high drives and solid, stable temperament to his offspring! Available for stud to fully health tested bitches of merit! Stud fee, $3,000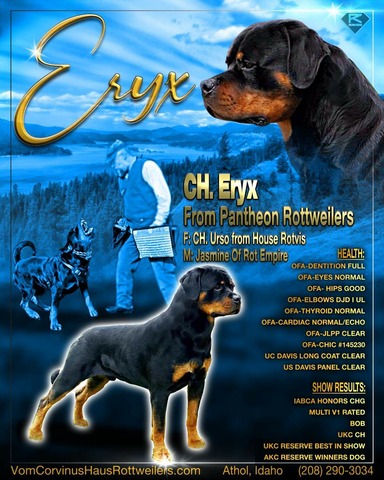 Available to a WORKING home!
DOB 6-8-2021
45 kg (99 lbs)
Rottweiler 5 panel Clear by Parentage
OFA Eyes Normal RO-EYE3255/5M-VPI
OFA Dentition Full RO-DE2551/7M-VPI
OFA Cardiac Normal RO-BCA807/12M/P-VPI
OFA Patellas Normal RO-PA1421/12M/P-VPI
OFA Prelim Hips Good
OFA Prelim Elbows DJD I UL
Gatlin is the son of our Champions Eryx FP Rottweilers, and Asha Vom Corvinus Haus! This boy is going to be something special! Gatlin is confident and outgoing with good nerves and very high drives!! He has beautiful, correct structure and will be trained for both sport, and show conformation! He is already showing great promise in Obedience and Tracking!
**Retired!
DOB 7-5-2018
71 cm, 56.8 kg (125 lbs)
National Champion
International Champion
Honors Champion
Multi V Rated
Best of Breed
JLPP Clear by Parentage
Long Coat Clear by Parentage
OFA Dentition Full RO-DE1958/14M-VPI
OFA Hips Good RO-79303G24M-VPI
OFA Elbows Normal RO-EL13238M24-VPI
OFA Cardiac Normal RO-CA8678/24M/P-VPI
OFA Eyes Normal RO-EYE2775/25M-VPI
OFA Advanced Cardiac Normal RO-ACA1026/27M-VPI
OFA CHIC # 151551
Rokko was bred here at Vom Corvinus Haus Rottweilers! Rokko is a large male with a deep and powerful chest, great bone and substance, and powerful movement! He has a broad, well developed head with a very noble expression! His coat is short and tight, with rich mahogany markings! He has very dark eyes and mouth pigment with a correct scissor bite and full dentition! Rokko is a low to medium drive male who has very high ball drive! His favorite things are playing ball and running Fast Cat! Rokko is a generally mellow guy, who with strangers, has a "wait and see" attitude. He is very friendly and clownish with people he knows, and in true Rottie form, loves to be near his people!