Females
Females
DOB 2-22-2014
PennHIP 70% DI Left .34/ Right .48
OFA Eyes Normal RO-EYE1929/17F-VPI
OFA JLPP Clear/Normal RO-LPP1079/42F-PI
OFA Thyroid Normal RO-TH1050/50F-VPI
UC Davis Long Coat Clear
OFA Hips Excellent RO-77688E54F-VPI
OFA Elbows DJD I UL
Alexa is our foundation female and she is everything a good female should be. She is reserved and aloof with strangers, but obedient and loving with her family and those she knows. She is a wonderful mother who produces large, healthy litters. She is sired by Tingo Flash Rouse and has more of the German Rottweiler look. She is larger at 95 lbs, with a wonderful topline, good bone, great angulation, tight feet, feminine head, dark eyes and black mouth pigment with correct scissor bite. She is great with kids and absolutely has the Rottweiler "clownish" attitude! She is a medium drive female who has extreme ball drive but also has a wonderful "off switch". She is my constant shadow and truly one of the nicest dogs I've seen. We look forward to seeing the accomplishments of her offspring!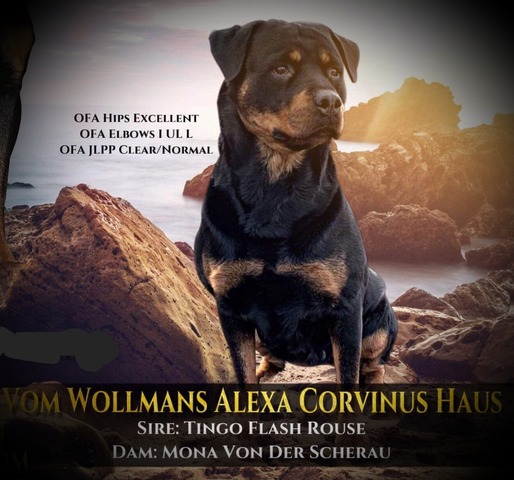 DOB 5-7-2017
International Champion
National Champion
Honors Champion
Honors Champion in Bronze
Honors Champion in Silver
Honors Champion in Gold
Multi Best of Breed
Multi V1 Rated
UKC Pointed
OFA JLPP Clear/Normal RO-LPP1364/8F-NOPI
OFA Full Dentition RO-DE1538/11F-VPI
OFA Hips Good RO-78297G24F-VPI
OFA Elbows Normal RO-EL12512F24-VPI
OFA Advanced Cardiac Normal RO-ACA715/25F-VPI
OFA Thyroid Normal RO-TH1099/26F-VPI
OFA Eyes Normal RO-EYE2547/29F-VPI
OFA CHIC # 144718
UC Davis Long Coat Clear
Asha is the daughter of Alexa and our very own Champion! Asha is fully health tested and CHIC Certified with all passing results!! She has achieved her IABCA National, International, Honors and Honors Champion in Bronze, Silver and Gold titles! She is UKC pointed, has been BOB multiple times as well as being V1 rated at every show! She is a striking, beautiful female of medium size with a powerful, muscular build. She has an expressive, feminine head with ears set close and correct, dark eyes and black mouth pigment, correct scissor bite with full dentition. She has a deep, wide chest, straight and powerful front with good angulations, rich, crisp coloring, a short, tight coat and an excellent, powerful and reaching gate. Asha is sassy but sweet with those she knows, and an excellent guard dog who doesn't lend herself to strangers readily! I will continue to show Asha and have high hopes for her as a producer!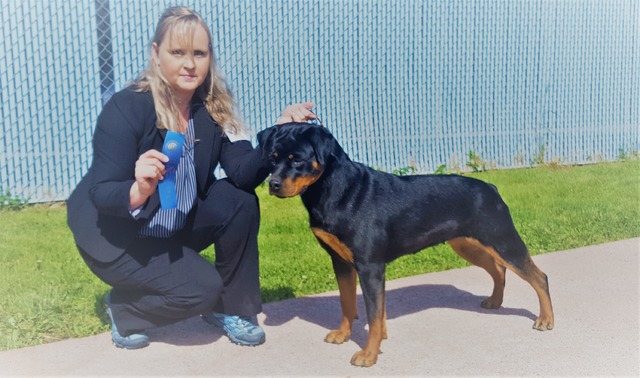 DOB 9-7-2019
Senior Puppy National Champion
Senior Puppy International Champion
Senior Puppy Honors Champion
BOB
Multi SG-1 Rated
JLPP Clear/Normal by Parentage
OFA Full Dentition RO-DE2077/6F-VPI
OFA Eyes Normal RO-EYE2721/9F-VPI
Dea is our youngest female and show prospect! She is out of our own breeding of Vom Wollmans Alexa Corvinus Haus X Xalmo Von Kelemen! Dea has a great disposition and is very sweet, social and outgoing! She is of a striking black and mahogany coloring, with a wonderful, masculine head, with correct ear set and size, full dentition with correct scissor bite and black mouth pigment. She has great depth of chest, an excellent topline and great front and hind angulation! This girl is off to an excellent start to her show career and we have very high hopes for her!